As quoted in Super Yacht Chartering: http://charternews.thehoworths.com/2012/10/charter-market-is-recovering-says-hein.html?spref=two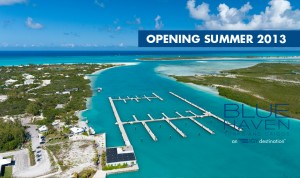 Set to open in the summer of 2013 for yachts up to 55 metres is Blue Haven Marina in the Turks & Caicos Islands.
Ideally located in Providenciales in the marina has just joined the IGY network. Located 575 miles southeast of Miami, it provides a useful gateway into the Caribbean.
Initially the marina will operate with a maximum draught of 1.7 metres. There are plans for maintenance dredging to bring this back to the original 3.6 metres before the 2013 winter season.
The marina, an integral part of the Blue Haven Marina and Resort, is surrounded by nearly 20 acres of waterfront land on the northeast coast of the island.
Marina guests will have full access to the resort, including a hotel boasting a gym, private beach and an infinity edge swimming pool with lounge decks for entertainment.
Also on property are several restaurants, bars as well as an array of waters port activities and day charters for both sailing and sports fishing.
Nearly complete, the marina has nearly 1,830 linear metres of dockage and is constructed of 4.5 metre wide concrete floating docks. Conveniences such as on-site customs and immigration services and a marina operations centre will feature a lounge for captains and crews, as well as showers, a chart room and a crew work room.
There will be a concierge for marina customers who will be able to organise activities, excursions, rental vehicles and restaurant reservations. Specialist provision suppliers with the capability to bring almost anything to the island will be readily available to super yacht crews and their guests.
Boasting the third-largest coral barrier reef system in the world, the islands are renowned for the finest of tropical beaches. Turks & Caicos Islands' fine-sand alabaster Grace Bay Beach is consistently voted one of the world's Top 10 beaches by Condé Nast Traveler.
Some of the best bottom fishing is in the TCI waters, including access to many species of grouper and snapper, among others.
Blue Haven Marina is located on the North eastern tip of Providenciales, only minutes away from Provo Golf Club, shopping, and more restaurants and bars. Surrounding deserted islands are easily accessible from the marina.
By joining the IGY Marinas network, Blue Haven Marina guests may be privy to a host of benefits, including the IGY Anchor Club, the marina loyalty program where captains and owners accumulate and redeem points for dockage. Other network-wide dockage programs include the Caribbean Anchor Pass, where vessels can roam the IGY network for one upfront discounted price as well as the Home Port Programme, a semi-permanent option for yachts looking for longer term dockage.
Posted by Frances and Michael Howorth at Tuesday, October 02, 2012