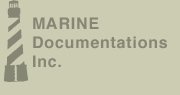 Marine Documentation, Inc., has over 45 years of service to the marine industry in the areas of US Coast Guard documentation, various foreign flaggings, mortgages, and state registration services.
Our goal is to anticipate and solve the issues which arise during the closing process, and to provide the client with full satisfaction. We serve the industry from 4 locations: Coral Gables and Fort Lauderdale, FL; Newport, RI and Shepherdstown, WV. Contacts by office locations are attached.
If you have any questions, please do not hesitate to call one of our offices. We look forward to working on your transaction in the near future.
For more information contact:
Ms. Kelly Cool
Email: Kelly@mardoc.com
Phone: 954-525-1113