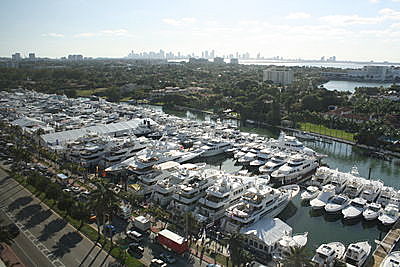 On Valentine's Day 2013 Miami kicks off "The Greatest Boat Show in the World!"  The Progressive Insurance Miami International Boat Show & Strictly Sail located in the Magic City showcases more than 3,000 boats and 2,000 companies from around the world. Venues will debut the newest powerboats, sailboats, engines, electronics, marine gear and so much more during this 5 day event.
The show takes over an ideal 1.2 million square feet of space over a mile-long strip of Indian Creek Waterway to accommodate 500 new and pre-owned vessels which are due to be displayed that you just can't miss.
Not to be out done this is Florida's largest annual event including locations at the Miami Beach Convention Center, the New Yacht & Power Boat Show at Sea Isle Marina and Strictly Sail® at Miamarina at Bayside. The sponsors are Progressive, Baron Services, Blue Water Sailing, Discover Boating, Miami Beach Visitor & Convention Authority, Miami Herald and NMMA-Certification. This event is guaranteed to bring the boating passion out in everyone.